Dilli Haat in New Delhi, India by Archohm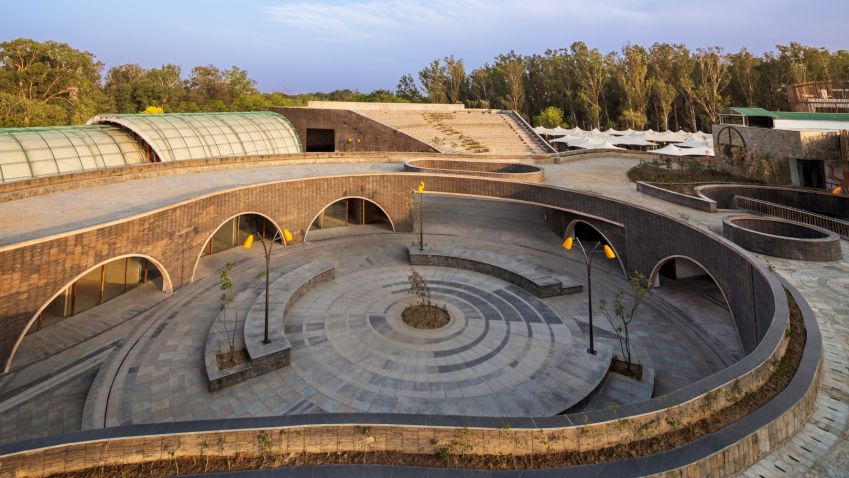 Dilli Haat in New Delhi, India by Archohm
'Haat Beat' was the starting point to this design competition entry in 2005. Delhi Tourism and Transportation Development Corporation had invited entries for a Dilli Haat in Janakpuri – a massive site with a large residential audience, in a part of Delhi that had very few places to go out to. DTTDC has promoted music all across Delhi with its concerts and other initiatives. The idea was to give them a home for playful music and give these homes a place to play with music. This was the underlying layer that bonded the overall program of formal and informal shops to sell crafts and celebrate culture; to inject a new life into this part of Delhi and be its rhythmic 'haat beat'.
As a design philosophy, with two Dilli Haats already in the city, one questioned the design elements at multiple levels. Fundamentally, all Dilli Haats need to have a common ground of bringing artisans to interface with city dwellers. All these haats need their own identity to attract people not only from their own neighborhood, but from the city at large. One also had to look at evolving the language and imagery of these haats with time. They could not be imitated extensions of the previous haats or imitations of villages in the city. They had to be progressive, in tune with today's times and respecting the craft and cultural centricity of the project. The design solution therefore,is a conversation between the past and the present, acknowledgement of the traditional and its adaptation in contemporary times, in concept and in construction.
The site was a large six-acre northwest facing contiguous piece that turns southeast towards the end. The plot is bound by the main bus terminus on one side, the Tihar jail (a national prison) greens on the other side and a large commercial road in the front. The complex is planned with two entrances; a primary face with vehicular and pedestrian zones and a secondary rearentry for pedestrians into the craft-only zone.
Conception of the program is as large a design intervention as its physical manifestation. The final functionality found an indoor, well-equipped, 800- capacity auditorium for formal concerts and an informal similar capacity open-airamphitheater that works simultaneously with independent spaces and support services. A multipurpose, multi-scaled exposition hall for exhibitions and seminars is proposed. A set of four baskets houses a music museum, a music store and music workshop space along with tourism offices and cafes. A large, air-conditioned food court extends into shaded courtyards and expansive greens for the basic need of spill overs. Formal, informal and open shop spaces are created to bring in the required sensitive adaptations of malls, markets and bazaars into this haat. An independent fine dining with an extended banquet facility is created to reinforce the business plan of this complex cultural complex.
Taking cognizance of all the requirements, so as to make the haat - a functionally viable program, it was decided to give a music theme to the center. The lack of any center dedicated to music isevident, while doing the research and soon, the theme of 'haat beat' gathered momentum.  A state-of-the-art auditorium that canhold large music concerts, an amphitheatre, a music centerfor sales and exhibition of musical instruments along with inviting exuberant gatherings of budding musicians and music lovers.
Outdoor shops with roofing canopies and craft shops to hold artisans' workshops are integral to the Dilli haat theme. Air-conditioned shops areadded to make it a more viable shopping experience. There is also a children's play area tucked into a small green patch. The food court with basement parking facilities ties it all together to sustain it as an enterprise. Like a well-crafted movie, the strength of this project is that the plot is strong and the basic idea is immersed well in every aspect extensively. The site plan is knit together efficiently. Free-flowing open spaces bind various activities on two levels. The main pedestrian and vehicular entries are from a busy street. There is a separate service entry and a couple of special entry points. A large open space takes the visitor through a frisking area to another pocket that leads to the huge central plaza formed by meandering Air conditioned shops and the exposition halls. One can also take the open pedestrian ramp to reach the terrace lined by canopy shops.  From the frisking area, there are direct access points to the café, surface and basement parking and banquet greens. The central plaza culminates to the auditorium and the craft shops cluster. The most popular activity that is the craft shop clusters located at the rear end to enable the visitor to walk through the entire haat. Another frisking area is located near these clusters since there is a strong possibility of craft shops to become the predominant function. The four 8 m high towers are interspersed along the site. Designed to look like huge bamboo baskets, they are two storied buildings with a roof top canopy designed for outdoor activities. Closer to the entry, one basket houses the information centre, while the other forms a café. Wander more into the interiors of the site and the baskets house a music centre and a museum. The music centre not only avails sale of all genres of rare classics, musical instruments, but provides ample outdoor space and a small amphitheatre to take care of interactive functions.
The exposition halls are three linear vaults of ascending widths in plan, forming one large space that can be divided into three as required. Colorful flowering creepers that soften the scale and help temperature control further cover the steel sheeting on top. The food court will house 48 stalls from different places and celebrate the taste of India. The two storied air conditioned space is well supported with individual service courts for every stall, in turn opening into a larger service yard connected with separate access.The front wall of the food court, visible from the main access road holds the huge signage keeping those interested updated on the happening inside is sure to change the skyline of the street forever.
A state of the art auditorium with 800 seating capacity also forms an amphitheatre on top that can hold an audience of 820 people. The green and paved amphitheatre instantly reduces the huge mass of the auditorium and at the same time helps retain the green cover, helping in heat control.
The air-conditioned shops bring a sigh of relief to Delhiites, sold out on arty- crafty goods, and summer being the hub of the shopping calendar. Also, covered on top by canopied shops they make a bustling activity space lit up by shop signage and street sculptures. 100 craft shops circular in plan, are arranged in clusters of 5-6 each forming a bazaar. These are built in the most conventional natural stone masonry, covered with the most technologically advance tensile canopies. The clusters are connected with small green patches and paved allies completing the village scene. The rear boundary wall is lined with informal platform shops overlooking this village.
Breaking free of the conventional look and feel of its other two counterparts with their brick vocabulary, Dilli Haat, Janakpuri takes a fresh look at the material palette as demanded by the multifaceted program that it houses. The material spectrum is an eclectic mix of modern and traditional. Using the timeless red Agra stone, kota stone, slate and the local Delhi quartz stone masonry on facades and landscapes sets a neat and natural typology to this predominantly green complex.
The one material that is being celebrated with its extensive usage is bamboo; Structures for shading, screens for baskets and food court, sculptures for street furniture on one side and the natural growing ones as soft-scapes of boundary plantations and accent trees on the other.
Indigenous stones and plants coupled with contemporary mediums of steel and tensile canopies juxtapose themselves aptly. This traditional 'haat' of contemporary times is a rich and earthy play of color and texture and one can experience the warm intimate spaces designed to human scale as well as the grandeur.
Project Information Sheet
Typology : Commercial, Urban Design and Architecture
Name of Project : Dilli Haat
Location : Janakpuri,New Delhi
Name of Client : Delhi Tourisum and Transportation Development Corporation.
Name of Client's Firm : Delhi Tourisum and Transportation Development Corporation.
Contact Person : Ms. Sharuli Bisht
Name of Architecture Firm: Archohm Consults Pvt. Ltd.
Principal Architect : Mr. Sourabh Gupta
Design Team : Suboor Ahmad, Aarti Kulkarni, Sadhvi Astir, D. D. Sharma, Rachna Mittal, Jeevan Dass, S. P. Gupta & Amit Das
Site Area : 348480 sqft & 32375 sqm
Built-Up Area : 172222 sqft & 16000 sqm
Start Date : August 2011
Completion Date : July 2014
Photographer : Andre Fanthome
Project Estimate: 100 Crores 
CONSULTANTS
Structural : Roark Consulting Engineers
Electrical : Archohm Consults Pvt. Ltd.
Civil : Swadeshi Civil Infrastructure Pvt. Ltd.
Landscape : LA Consultancy
HVAC : Abid Hussain Consultants
Plumbing : Techno Engineering Consultants
PMC : Swadeshi Civil Infrastructure Pvt. Ltd.
Façade : Swadeshi Civil Infrastructure Pvt. Ltd. 
Lighting:
Siteco: Secondary Mirror Optics
Osram: 36w LED Flat Panels
GE: 18w Led Downlights, Led Street Lights
Philips: 18w Dwon lights, 24w LED RGB Wall Washer
Schreder: 150w MH - Puntila
Website – Archohm
Facebook – Archohm
Twitter – Archohm
Instagram – Archohm